Executive search process
You want a recruiter that has an effective executive search process. One that will consistently find high performing staff for your business. bfpeople's recruitment model is a tried and tested six- step method which ensures successful recruitment and retention.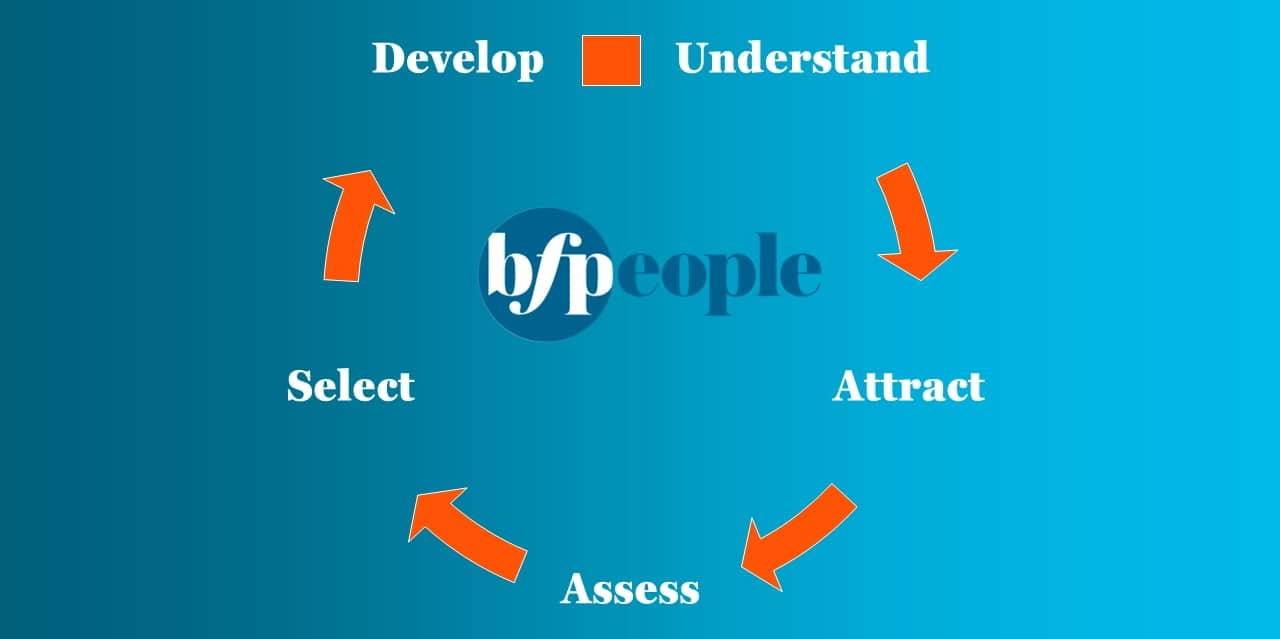 bfpeople's six step executive search process
Understand

All great hires start with a good briefing. We want to know your business – its culture, style, unique challenges and ambitions. We'll look at the context and background of the positions you are seeking to fill. This includes the challenges of the role, as well as the opportunities it presents. A key contributor to the success of any recruitment project is clarity around how the success of the hire will be measured over time.

We will bring insight, perspective, and experience. We'll challenge assumptions to arrive at a clear assignment brief. Only then can we consider potential candidates: what are they doing and where they might currently be working.

We will agree how internal candidates and any direct applicants are handled. Typically, they are included in our assessment process.

We will work with you to agree and design any relevant information for candidates. This might include videos, online information, and candidate packs.

Attract

In this highly "Linked In", social media savvy, world, it is easier than ever to attract applicants for jobs.

But, creating a shortlist of high quality candidates, rather than a list of "the usual suspects", requires experience and focus. 

Around 20% of individuals we interview have little, or no, social media footprint. bfpeople has extensive research capabilities to identify, approach, and qualify, target potential candidates.

Our well-developed talent communities provide tremendous reach in our sectors. Add the judicious use of online, traditional and social media to the mix and your important vacancy reaches the widest possible audience.

Importantly, we will keep you informed of progress at all times.

Assess

Assessment is a key part of our executive search and recruitment processes. You only want to see candidates who have the capability and the interest to do the job. Our candidate interviews focus on key factors including behaviours, emotional intelligence, leadership skills , and motivation. They also cover a candidate's technical skills, achievements, and career history, of course.

We don't focus on simple competency based interviews. Our candidate discussions take time and are designed to learn about them, not just how they answer stock questions. This is where the quality of the briefing, and understanding of your business, pays dividends.

Many of the first-round interviews we conduct are under NDAs. Some of our clients' plans are commercially sensitive. We manage this process carefully and in strict accordance with the wishes of our client.

Recommend

We present shortlist recommendations with comprehensive interview notes. We also ask candidates to provide a short video "pitch" for the role after our interviews with them. Clients like this. They get a flavour of the individual and a stronger sense of their motivation and interest in the role.

Our notes provide career information as well as indicative ratings against the key criteria agreed for the role. Candidates who tick every box are extremely rare.

Our reports highlight the gaps, and the areas to probe further at your interview with the candidate. Psychometrics and personality questionnaires are usually used at the final interview stage or earlier when appropriate. Reports and observations are fed into the process to inform the selection decision and the future
induction process.




Select

Once you have chosen your preferred candidates, bfpeople can help to obtain detailed references and background checks to complete the picture.

As our fee is agreed and fixed at the outset of the project, we are an "honest broker" in salary and benefits negotiations. We don't benefit from negotiating a higher salary for the candidate. Getting a good deal for both parties is the most important part.

The acceptance of an offer is just the start. There can be many bumps in the road ahead. These include counter-offers, other job opportunities, logistics of relocation, and preparing for the transition. We keep in touch with your new hires throughout their notice period and do all we can to ensure a successful completion.

Develop

The first 100 days of all new appointments are critical. The ultimate success or failure of any new position often hinges on this short period. Sometimes appointees don't perform, or fit, as expected. And occasionally clients don't deliver what they promised.

bfpeople supports this crucial time through regular check-ins with both parties. As a result, many concerns can be resolved before they become issues. If not, our free replacement guarantee, will offer peace of mind.

Similarly, any development needs identified through the interview and assessment process are managed through our first 100 days coaching programme.
A wholly flexible approach
Most clients engage us to conduct the entire recruitment process. But, others prefer to handle some of the stages themselves.
We are happy to do as much, or little, of the work as you require. For example, we work with some organisations to manage the search and attraction process only. We use our research skills to find the best candidates available, then the company takes them through its own selection process.
Others ask us to assess their shortlist of candidates, or to support them in the interview stages only – bringing objectivity to the process. We are happy to offer support and expertise wherever you most need it.
We work with ambitious employers who want to recruit, develop and retain the best people available. If our executive search process resonates with you contact us today to get things started.