Improving leadership effectiveness
Good leadership involves getting things done "with and through others". This means giving clear direction on some occasions and empowering and consulting staff on others. This gets things done in the most effective and efficient manner.
Leadership Judgement is knowing when to take the lead and when to release control to staff. It is a clear differentiator in the most effective leaders.
For a short introduction to its importance please watch our short video about The Leadership Judgement Indicator.
People leave managers, not organisations
The ability to use different decision-making styles is crucial for developing leadership skills and building effective teams. But, even experienced leaders can rely on their default way of doing things. And this can be costly.
Good employees leave organisations because of poor leadership and management. Controlling bosses who micro-manage, or struggle to make decisions, are just two examples. Employees whose ideas and suggestions are not listened to, quickly become disengaged in their roles. High levels of staff turnover can be avoided if organisations hire leaders who know how to get the most from their teams.
The Leadership Judgement Indicator (LJI) is a 45 minute online Situational Judgement Test which assesses leadership style through participants' responses to 16 work-based scenarios.
It is a valuable tool for recruiting to key positions or for developing new and existing staff. It assesses the participant's preferred leadership style. It also measures their judgement in choosing the best course of action, based on the information provided in the scenarios.
What would you do?
The Leadership Judgement model
The exercise presents participants with several options for dealing with 16 different written scenarios. The participants rate the suitability of each of the options for each scenario.
The LJI model is based on the contingency, or situational, theory of leadership – where the leader adapts their style to suit different situations and requirements. The model uses four main leadership styles: directive, consultative, consensual and delegative as illustrated below. The ability to use each of the styles appropriately is an important requirement in effective leaders.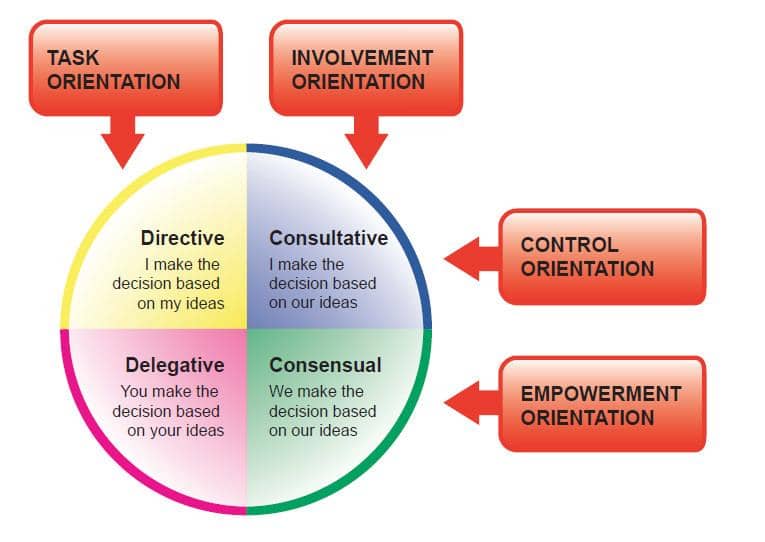 The report
The LJI's reports indicate the leader's relative preference for each of the four leadership styles. This shows whether they naturally lean towards a task-focused or an empowering style, for example. The reports also show their ability to choose the right leadership style in the scenarios. This is the measure of leadership judgement.
Reports include graphs and a detailed narrative explanation. Graphs show percentiles, comparing responses with other leaders. Feedback is also provided by a bfpeople consultant to all participants.

You can use the LJI alone. And it adds great value used alongside other personality or 360° questionnaires. It provides a platform for individual or team development and coaching. And it is also used to support recruitment and promotion decisions.
The LJI is suitable for both new and existing managers or leaders – from supervisors to chief executives.
It is available in four versions:
The Leadership Judgement Indicator: the original version, used for all levels and industries
The Global Leadership Judgement Indicator: for senior leaders in multinational organisations where cultural adaptability is required
The Sales Leadership Judgement Indicator: with only sales-oriented scenarios, this questionnaire is perfect for recruiting and developing senior salespeople
The Local Government Leadership Judgement Indicator: with specific scenarios aimed at local government chief officers and heads of service.
How is it different from
personality questionnaires?
Personality questionnaires are self-reporting exercises which explore likely traits, style, behaviours, and preferences. There are no right or wrong answers when completing personality questionnaires. But, the LJI is a situational judgement test. There are right and wrong, or at least better and worse, ways of dealing with each scenario presented in the exercise.
It's possible for a school leaver and a Chief Executive to have the same, or very similar, personality profiles. So on their own, without a detailed feedback discussion, they don't always help decision-making. But the LJI offers a measure of "leadership wisdom" – the ability to understand the best way of handling a specific situation.
We find that this does not always get greater with experience, status, or age. We often identify good leadership judgement in relatively inexperienced managers. And we also see poor judgement in some of the most senior leaders.
So, we recommend using the Leadership Judgement Indicator alongside other psychometrics when you have important recruitment decisions to make. This provides an broader picture and adds context to the LJI results.
The LJI is used and trusted by thousands of commercial and public sector organisations across the globe and is available in many languages. Contact bfpeople today to test your own leadership judgement, or to use it in your organisation.