How good is your leadership team?
Team profiling and assessing dynamics
Without a clear understanding of the dynamics of your board or senior team, your business or organisation could be facing significant challenges. And it is unlikely to be realising its full potential.
Poor communication, unhealthy conflict, lack of trust, and toxic leadership. These are just some of the behaviours that can negatively impact your bottom line and productivity. They will hinder growth and, ultimately, hurt your business.
A team profiling and assessment from bfpeople provides a comprehensive evaluation of the strengths, weaknesses, gaps, and development opportunities of your team. You'll have a better understanding of each individual's – and the entire team's – unique talents, work styles, and preferences. This knowledge will allow you to create a team that works cohesively, collaboratively, and effectively.
bfpeople designs team assessments and profiles for board evaluations, management audits, investor due diligence, and for leadership development and training programmes in public, private and third sector organisations.
How team profiling works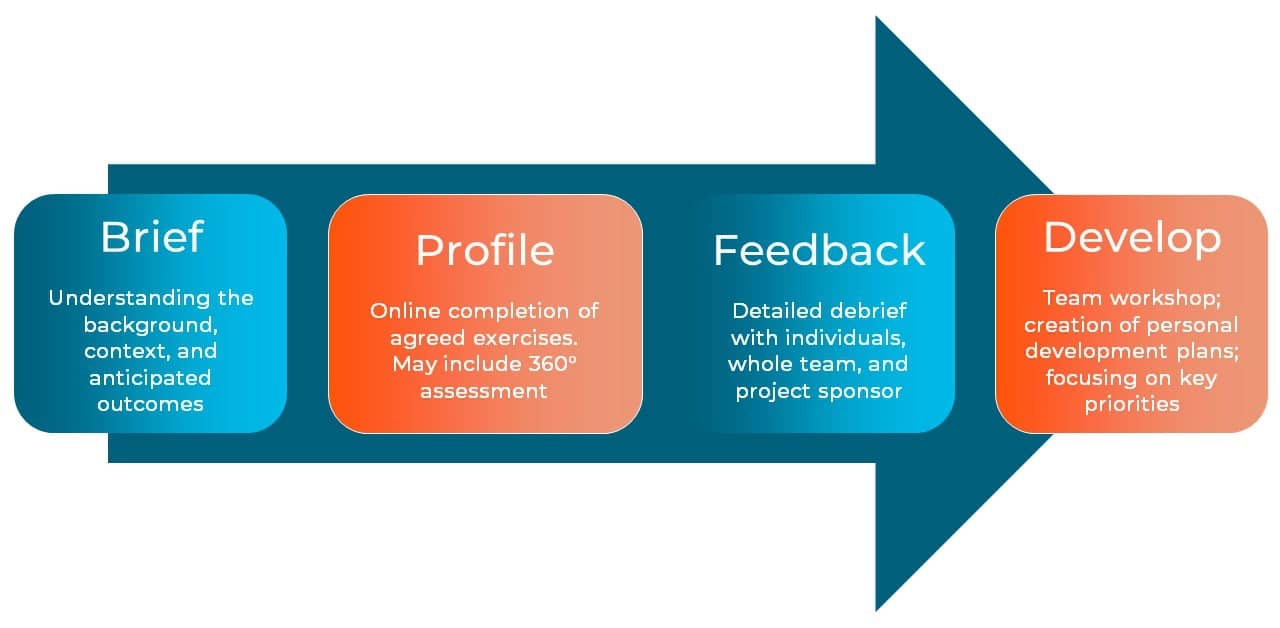 All team members complete a series of personality and psychometric exercises, chosen specifically to provide the most relevant information for your circumstances.

bfpeople partners with leading occupational psychology publishers such as Saville Assessment, Hogrefe, and Hogan. Using a range of assessment tools provides much more in-depth, and useful, data than the single "team profile" tools often widely sold.
We frequently include 360° feedback, using interviews rather than questionnaires, to support the profiling.
Questionnaires are completed online and results compiled for reporting and feedback. The project sponsor, usually CEO/Chair/HRD or investor, receives a full, illustrated, narrative report, showing the full, combined, team profile.
All participants receive a one-to-one development-focused feedback and review session. Individual strengths, weaknesses, opportunities and development needs are discussed, and a personal development plan prepared.
The combined team profile is used in a facilitated workshop with the whole team. The workshop looks at the team, dynamics and This focuses on understanding group strengths, weaknesses, gaps, differences in style and approach. |This includes discussions around the implications of the resulting profiles and how to move forward as a stronger, more effective, team.
The Individual Leadership Profile
Each member of the team receives their own personalised leadership profile.
The individual leadership profile summarises their questionnaire and test results and provides a narrative of the key findings and recommendations. The psychometric profiles and report are shared in a one-to-one feedback session with each team member. This focuses on their individual contribution to the team, their core strengths, and areas for improvement.

Leadership Judgement Styles profile from the individual profile report
It also includes a summary of the 360° feedback interviews, if used. The discussion is frank, but always supportive – coaching in style. Its purpose is to build self-awareness and help the leader to understand how they compare with leaders in other organisations.

The report includes a personal development plan template which is explored as part of the feedback session. Leaders are encouraged to begin the process of identifying development opportunities, important goals and support required. and
There may also be value in conducting a 360 degree exercise with colleagues and stakeholders. This is not an online questionnaire, but personal interviews held online or by phone. This gives rich information that adds context and insight to the assessment.
When the exercises are completed, we will arrange a one-to-one feedback discussion. This will be face to face or online and will take around two hours. This session will explore the areas raised by the questionnaires in detail. We will look for evidence that supports (or disputes) the data from the psychometrics and discuss the implications of that information. This session is a mix of feedback from the questionnaires, intense interview, and coaching.
The team dynamics profile
The team report provides many charts and illustrations showing the individual and team profiles – a traffic light snapshot of strengths, styles, behaviours, risks, and areas for development.

A "traffic light" snapshot of competency rating for key behaviours
Reports are based on your competency framework and/or the structure of the assessment tools.

The team reports and facilitated workshop spark discussion about personality and behaviour, and build understanding about collective strengths, blind spots, key differences, thinking styles and approaches.

Leadership Styles Preference profile for the team
This report is usually shared with the participant as part of their development. Further coaching sessions can be arranged as required.
The outcomes
Investing in a bfpeople board or team profiling and assessment project is a strategic decision that will provide an invaluable insight into the dynamics of your leadership or management team.
The process will:
We frequently follow up the included one-to-one feedback and group workshop with individual and team coaching sessions. This builds on identified development areas and continues the good work started by the assessment and profiling work started by the assessment and profiling work.
Who uses the team assessment?
We work with a variety of organisations, in almost every industry sector, to assess and support their team development activities. Much of our work is with management and leadership teams that are experiencing change, or not performing as effectively as they might. We have assessed company directors as part of their board evaluation process, and we have prepared reports on cognitive diversity, for charities and public sector bodies.
We have also provided the team assessment as a "management audit" to investors as part of their due diligence before acquisitions.
Whatever the size, or structure of your team, we can add value to its development by sharing the results of our team assessment.
How much does it cost?
The cost of team profiling and assessment is influenced by various factors. These include the choice of assessment tools and the inclusion, and scope, of a 360-degree interview. Typically, our fee is £1250 plus VAT per person, based on four to six team members. Fees may vary for more, or fewer, participants.
This comprehensive package encompasses two personality questionnaires, the Leadership Judgement Indicator, and a critical reasoning test. It includes a detailed one-to-one feedback session with each team member, a written report with recommendations, and expert support for personal development planning. It also includes writing and presentation of the Team Profiling and Assessment report, and design and delivery of a bespoke workshop to share and explore the team dynamics profile.
Don't let poor team dynamics hold you back from success. Contact John Hamilton at bfpeople to learn more and to start building a stronger, more effective team.