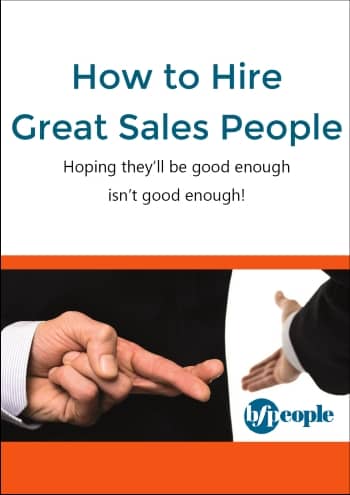 Every business wants to know how to hire great sales people. Without sales most businesses won't be in business for long.
But it isn't easy to find, and keep, good sales performers – our experience is that it's the hardest role to recruit for in almost all organisations. Many companies hire sales people hoping they are going to be successful. They take a gamble that it will work out and that they will get a return on their investment.
Countless discussions with clients and employers about this topic, have prompted the production of this guide to help business owners and sales leaders navigate this crucial activity.
The short booklet is available to download here, free of charge, by clicking on the button below.
How to Hire Great Sales People
Get the free ebook (no signup required)
The book outlines:
how to prepare and plan for what you need in a sales person
how to attract and shortlist candidates without missing the hidden gems
how to manage sales interview to get answers to what you need to know
how psychometrics can inform your decision
how to take meaningful references
how to plan for the first 90 days and how to retain your valuable sales people
Written by John Hamilton who has recruited more than 1000 sales people in all industry sectors, this is a guide for all managers who need to hire great sales people and Business Development Managers.
How to Hire Great Sales People
Get the free ebook (no signup required)
You might also like related content on this site:
Are your interview questions a strength or a weakness?
First interviews: 6 tips for the perfect match
Getting value from psychometrics in recruitment
---
How can we help with your project?
If you need help to hire great sales people, or to assess or develop potential in your team, call bfpeople today on 0333 202 2225 or click below to get things started.